Yuriko Kubo (Who Voices Marguerit Farom in anime) is set to perform the Ending Theme song "Kawaikutte Ijiwarushichau" for Yuusha ga Shinda! or The Legendary Hero Is Dead! which is set to Premiere in April 2023. Anime Reveals "Thigh High Socks Visuals" On November 27, 2022. See the PV below:
Subaruichi's Manga(Yuusha ga Shinda!: Murabito no Ore ga Hotta Otoshiana ni Yuusha ga Ochita Kekka) which is Official Announced in Anime Frontier 2022 by Crunchyroll to adapt into Anime(The Legendary Hero Is Dead!). The official trailer and cast release on Dec 16, 2022.
The Legendary Hero is dead! Cast and Staff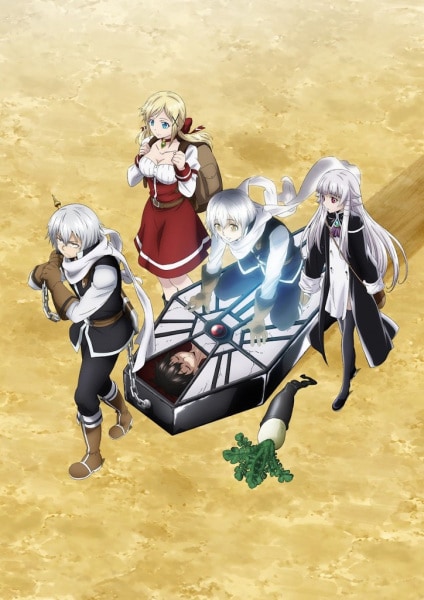 Subaruichi's Manga Anime Adaptation is directed by Rion Kujo (Kiss Yori…) at LIDEN FILMS with Yuu Satou (Yuusha ga Shinda!) as a Series Compositor Whereas Music given by Kana Utatane, Yuki Nara, yamazo, MOKA☆, and Background Art Design handled by Hiroyuki Ooyama and Character design done by Yosuke Yabumoto (Aiura), Produced by WOWMAX.
Also Read: My Clueless first Friend Anime Trailer, release date
The Legendary Hero is Dead! Manga Synopsis
Far to the north of the world lies Hell's Gate, a portal formerly used by the Demon Lord to invade the human realm. Thanks to the legendary hero Shion Bladearts, wielder of Excalibur, and his loyal band of companions, the Gate was sealed off and the demonic threat was vanquished.
Unfortunately, the seal was incomplete and has begun to weaken, allowing the demons to once again begin their attack.
Worried about the safety of his village, selfish and perverted farmer Touka Scott digs pitfalls to defend against the demons. But fear not, for Shion is on his way to reseal Hell's Gate and save humanity!
Or at least he was, because the legendary hero is dead, having fallen into one of the pitfalls Touka dug. Luckily, dealing with the dead is the specialty of necromancer Anri Haynesworth. While she can't revive him, Anri can at least salvage their quest by forcing Touka's soul into Shion's rotting body and dragging him along to Hell's Gate in Shion's place.
Not wanting to be left behind, Touka's childhood friend Yuna Yunis tags along. Together, the three of them set out as what just might be the most unsuitable party to ever try to save the world!
[Written by MAL Rewrite]
The Legendary Hero is dead! Release date
The Anime is set to Premiere in April 2023 but the exact date is yet to be announced. Crunchyroll Licenses the Anime Series on December 3, 2023, and will Stream on the Internet.
Subaruichi wrote and illustrated the Legendary Hero is Dead! manga, which debuted in Shogakukan's Ura Sunday web comic magazine in December 2014. The manga ended after six years in December 2020, with 202 chapters collected into 20 volumes. Shogakukan Asia has published the manga in English since 2015.