Finally, the most awaited date episode has come of The ice guy and his cool female colleague titled " Lost in Amusement Park. A Cool yet innocent love story full of comedy, and sweet lovely moments between various characters and their development through the anime.
Trip to Nekomi Land
The sweet office rom-com with multiple characters stories rather than just focusing on the main leads. Episode 6 starts with the training of Himuro to maintain eye contact with Fuyutsuki while talking, which turns out to be a sweet little moment between Himuro and Fuyutsuki. Later, Himuro gets two Nekomi land tickets from the Chief to go with Fuyutsuki-san. Himuro decides to plan the whole trip as it will be the first time trip for Fuyutsuki. Komori gave him some advice but it was a little overwhelming for him as he's not used to this. Later, Komori and Saejima also plan to go with them.
On the following day, all go to the Nekomi land together but end up in different directions as Himuro and Fuyutsuki met up with a lost child goes to help her, whereas Komori and Saejima go together to let Himuro and Fuyutsuki spend some time together
Also Read: Kubo Won't let me be Invisible episode 5 Review
Anime General Information
| | |
| --- | --- |
| Directed by: | Mankyu |
| Based on: | Manga on same name |
| Manga written by: | Miyuki Tonogaya |
| Total Episodes | 12 |
Secret Date
Fuyutsuki and Himuro take that child to the lost and found section, but the little girl refused to let them go, so Fuyutsuki and Himuro wait for the child's parents and himuro takes some secret glances at Fuyutsuki san and makes a little snowman for the little girl.
Afterward, Himuro and Fuyutsuki go to the Nyangorou cruise to spend some time as Komori & Saejima weren't picking up their calls. Himuro and Fuyutsuki spend their time together riding various rides and enjoying each other company and the fact that they are seeing a lot of people enjoying and happily spending time at the same time. Later both of them go to buy some souvenirs for their trip. Fuyutsuki picks up a mug set to take one each but Fuyutsuki feels a little shy as Himuro says that we can take these to the office Fuyutsuki doesn't want others to see this and talk about them. At this moment, Himuro with tried his best to tell his feeling to Fuyutsuki and she's also waiting for his confession, but this is a rom-com, you can't expect them all today so early. Komori disturbs their sweet moment and tells them to see the Nyandoro parade where they again click a photo with fireworks in the background.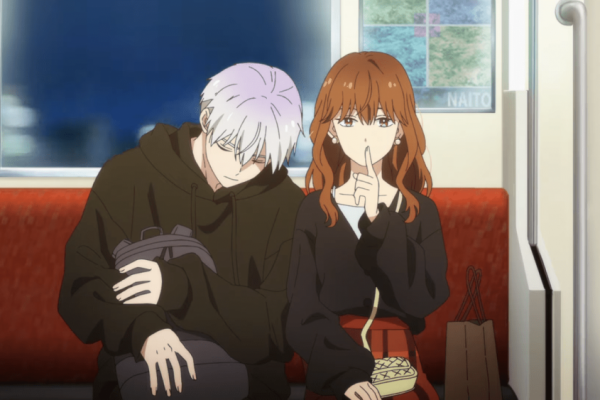 Later, Himuro falls asleep on the train on his way home. At night we see both Fuyutsuki and Himuro mesmerizing in their shared mug and George plate.
Also Read: The Eminence in Shadow Episode 19 Review
Anime Summary
Himuro is an office worker who belongs to a race of supernatural beings with strange powers. Whenever he is deep in concentration, he subconsciously plunges his poor coworkers into a close rendition of the Arctic. Even so, contrary to his icy powers, Himuro is a warm and kind person. He likes flowers and cats, but alas, he cannot get too close to either. Himuro has a soft spot for his colleague Fuyutsuki, a calm woman who has a knack for providing simple solutions to his unconventional problems. Whenever Fuyutsuki does something for him, a snowstorm of emotions builds inside Himuro's heart, and he fails to notice the raging snowstorm he causes on the office floor. Thanks to his snowy tantrums, Himuro's feelings are apparent to everyone but Fuyutsuki. However, fueled by immense adoration and desire, Himuro is prepared to do whatever it takes to capture her heart.  
Verdict
In this episode, we saw a little improvement in our main leads' relationships as well as the development of our Fox Couples and how they complement each other personalities and ways of thinking. In the upcoming episodes, we will see the lovely dovely moments and their feeling for each other. Let's hope to have more sweet moments with our couples.