Episode 6 is Titled " The Great Spirit Mother and the Demon king's right-hand man". In the previous episode, Anos and Gang plan to go back in time with Revalon to check the mystery behind the Masked demon and the Death of Lena. Without further ado, let's jump into the new Episode of misfit of demon king academy season 2 now.
Spoiler Alert
To the Past
Anos Plans to find out about the great spirit Reno's death and spirit king and Misa's relationship with spirit reno. Anos and the gang went back in time with the help of Scythe of Guardian of time and use Revalon, Ultimate time magic in the treasure house. and anos uses lay's powers to block source power to hide his identity from others as he's already reincarnated in this timeline. Anos meet Avos's followers in the castle basement along with Revert( another misfit demon) and Menou(their homeroom teacher). Revert tells anos to attack him to divert the attention of Avos' followers in the wrong direction. so, they can reach their destination.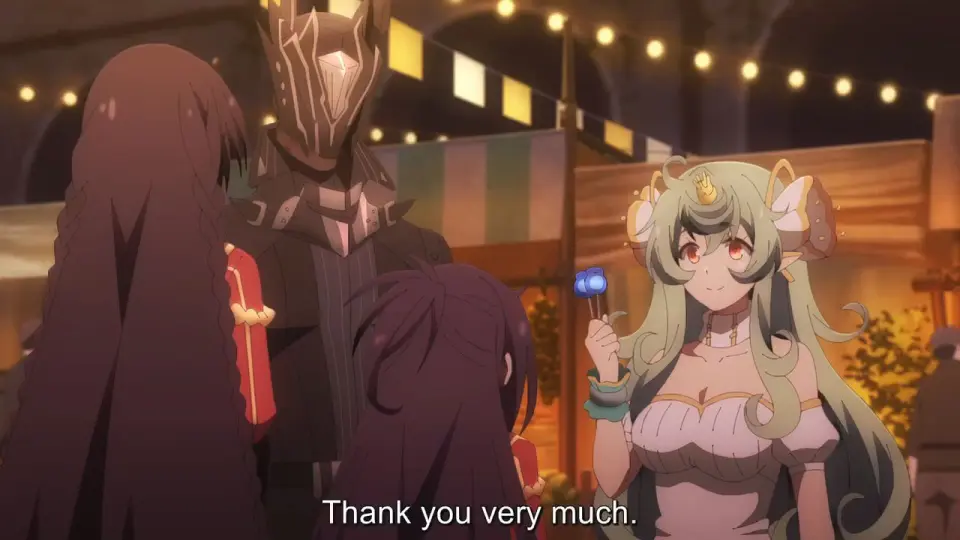 As anos orders, Shin becomes Reno's bodyguard and Spirit Reno goes to the nearby human market to get some blue candy, but Anos's co has brought all the candies already, but zeisei ( anos's co-girl) gave some candies to Reno as a gift and Reno gives her some cookies. Later, Anos and the gang follows Shin and Reno to the Spirit World- Aharthern.
Also Read: The Eminence in shadow episode 20 preview
Anos and the gang also go into Aharthern with the help of Blue candy and spell "On the night of the hazy moon, misfit will rise on the holy light's shore". As they toss a blue/water-colored candy. the path of the forest revealed its way. Reno and Shin went into the forest and see the devastation all around as wild wolves entered the forest, Shin kills all the wolfs on the way Whereas anos and the gang were Surrounded by wolves but anos can't use his powers to disturb the past and current timeline he teaches a spell to Misha but shyly she opens her evil eyes and Shin and Reno finds them.
Uncertain Understanding between Demon and hero of the Past
Anos changes into a child and reveals himself and his gang. he Introduces himself as Anoshu Polticoal, and says they are Traveller Performers and mistakenly came into the spirit world. Shin looks at Anoshu for a while then starts walking away without saying anything, as Reno asked are good people, Later they come across the powerful demon lay stops him with his hands but is available to use his sword as they are in different Timeline then Anoshu tells shin to give Sigshesta the sword to him but shin denies it saying no one can unwieldy it except his lord Anos and him but Anoshu tells him that he will be the third person now, Shin Throw the sword at him and he slays the powerful demon, and shin gives the sword to him as long as he's in Spirit world.
Later Anoshu Asked Reno about Lena a wandering spirit without any memory for which Reno denied it saying I don't know anything about her. Afterward, Reno tells Anoshu that Lena is a Love spirit and she will disappear if she completes her task or gets her memories back.
RELATED:

The Misfit of Demon King Academy Season 2 Episode 5 Review
Verdict
Finally, Anos or Anoshu meet up with Shin and Mother Spirit Reno to find out about the changes in the future, Lisa's relation to them, and how Reno dies after his reincarnation even with Shin as her bodyguard. we will see the plan of Masked Demon or shin, whether he's saving his daughter Misa or trying to kill his former boss Anos Voligoad.
My opinion
In episode 6 we finally get to see some bromance between Anos and Lay, and anos believe in lay. On the other hand, we can see how shin never question back Anoshu even though he just met him for the first time. I guess he Has guessed the real identity of anoshu and he's going with the full to see the emergence of his boss to come back again in past after reincarnating.