The New episode of Kubo won't let me be Invisible titled ' White day and a destination for feelings', Starts with a day in the life of Shiraishi and how he has completely accepted the way he is and living an ordinary life, but Kubo comes in his life. We can see the changes in Shiraishi and Kubo's sweet and lovely relationship and the effects of their relationship on the people around them. so, without further ado let's dive into, Kubo won't let me be invisible episode 5 review.
Lunch Break with Kubo
Shiraishi, as usual, looked for a quiet place to eat his lunch as he doesn't have friends always eats alone, eventually became his hobby and he often eats his food in a quiet place where no one finds him and yeah except Kubo because she can find him even in the rabble.
Kubo manages to find him again, kubo savoring sees Rolled omelets and Octopus Sausages in Shiraishi Bento, and is lost as she keeps her eyes on Shiraishi's lunch. Seeing her intrigued Eyes on his food Shiraishi offered some to Kubo which makes her happy and she took bite a directly from the omelet he held in his hand, which is a little unsettled for Shiraishi. Kubo also offers him Rolled omelet she made herself.
Later, Kubo asked him about his favorite Food which is a Hamburger steak, and also tells him about her food which turns out to be Stew. Kubo even promises him, that she will make his favorite dish by herself.
Also Read: Kubo won't let me be Invisible episode 4 review
NO Bad Mouthing Kubo's Crush
Later that day, Kubo goes to a near cafe with her friends Tamao and Hazuki, and they finally talk about their crush where Tama tells them about her past wish to become the bride of her father in 1st grade. After, Tamao and Hazuki both talk about Kubo, that she's glowing day by day and even looking cute lately.
Later, Tama asked Kubo, if she has a crush on someone or someone she thinks about all the time. Shiraishi came to Kubo's mind as she thought about someone and she shyly turned her face away. She hesitantly tells them about Shiraishi but the duo seems to be disappointed by her answer. Tamao questioned her liking of him, pointing out that he is not attractive, athletic, or even intellectual. Kubo cut Tamao off, telling him that she dislikes it when people badmouth someone they don't know.
First in the School
Shiraishi came to school a little early and saw himself all alone, thinking he is the first one to come, just to find Kubo san listening to music next to him.
Later kubo decides to share her earphone with Shiraishi to listen to the same song together, which is one of the most romantic scenes in my view. Shiraishi and Kubo both shares a Shiraishi chair as well as Earphones. Later Shiraishi tells her about the live adaptation of his favorite manga and anime into a movie and how much he's waiting for that. Later that evening, That night, Akina discovers her younger sister watching an anime that appears to be Shiraishi's favorite.
White day sweets for secret Admirer
Shiraishi afterward purchased sweets on White Day, or March 14, to deliver to the mysterious person he doesn't know. However, there is a slight issue; Shiraishi doesn't know the girl who brought him, sweets that day, but he is certain that Kubo knows the identity of the mysterious person, so he has requested Kubo to meet him after class.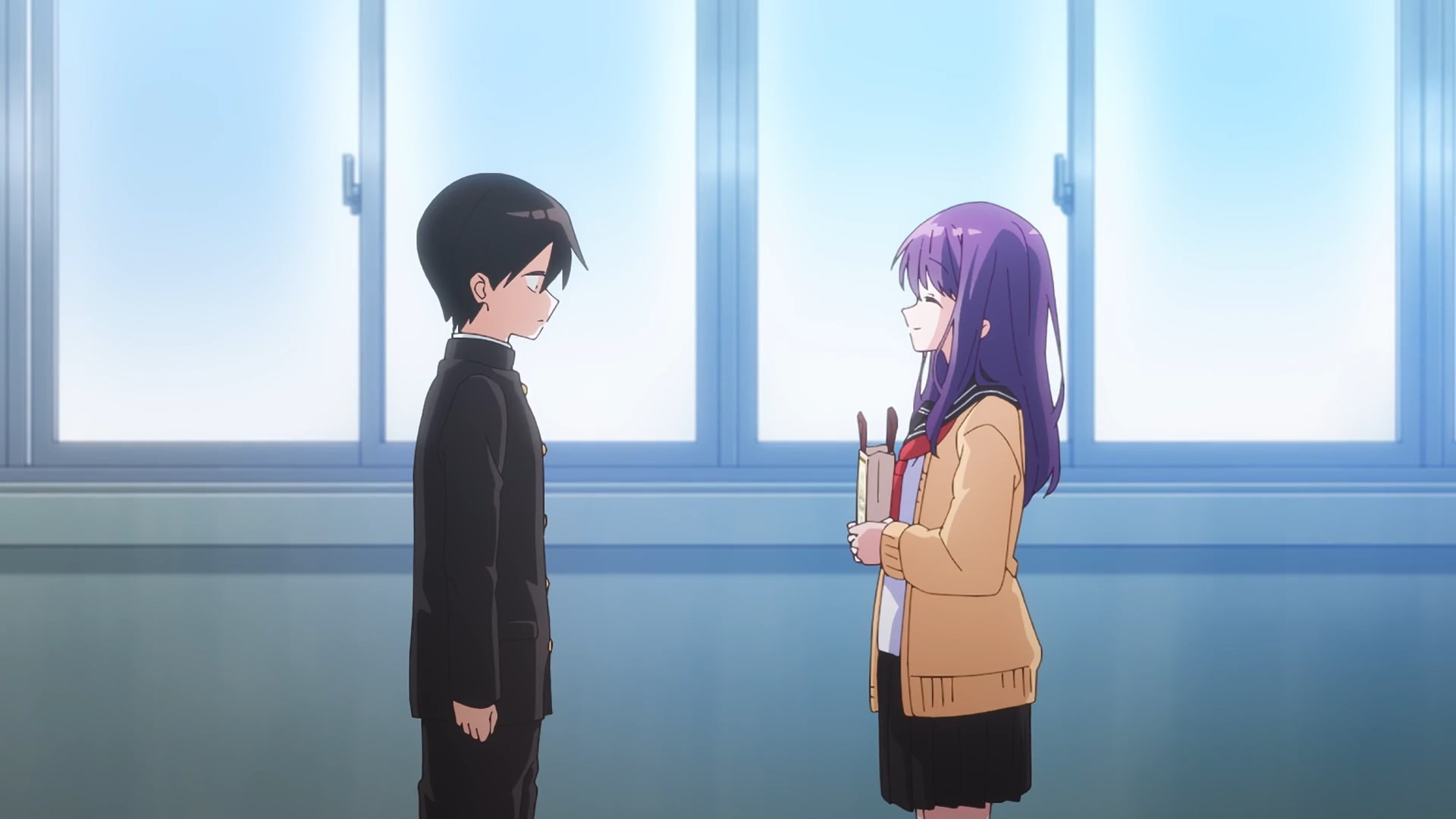 Kubo receives the box of sweets from Shiraishi, who tells her to give it to the person who gave sweets to Shiraishi on Valentine's Day. Later, Kubo questioned him about the number of sweets he received on Valentine's Day, and he said, "One." Shiraishi is puzzled as Kubo returns to the class with a beautiful smile on her lips.
Also Read: The Reincarnation of the Strongest exorcist in another world episode 5 review